Oval Silver Dangle Earrings Handcrafted Jewelry Mixed Metal Jewelry,
$89.99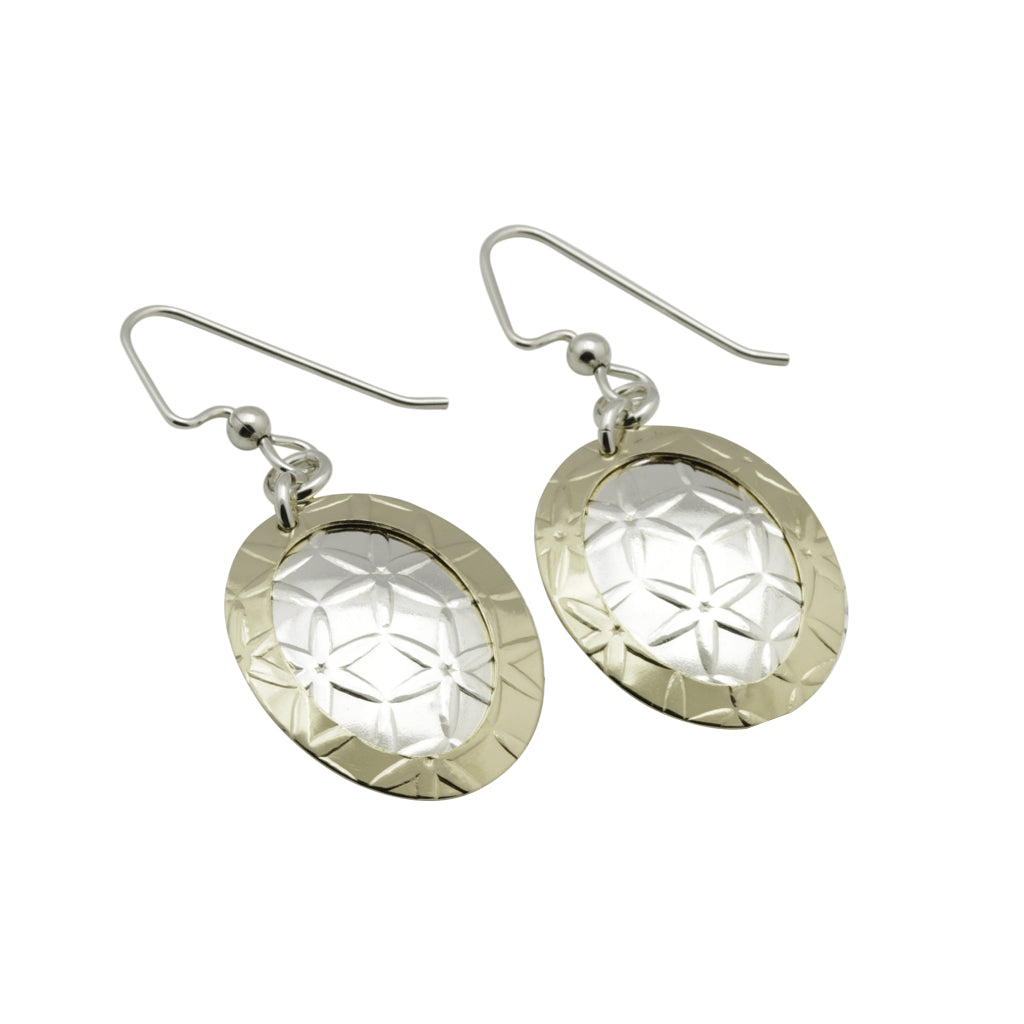 These Handcrafted Silver Dangle Earrings from our signature "Blossom Collection" are handmade and ideal for complementing the style of a woman who seeks refinement and grace. They are sure to satisfy your desire to own an exquisite piece of jewelry that will stand out from all the rest, and draw the admiration of others wherever you go!
These earrings are remarkably versatile, transitioning from your formal and everyday attire seamlessly. And hanging at 2" they are the ideal length to elongate and flatter your face. Handcrafted Silver Dangle Earrings are perfect as a gift for a loved one.
Gold on Silver combinations is the height of luxury. The radiant 14k gold-filled accent highlights the crisp tarnish resistant Argentium Silver disc's brightness. Pair with other pieces in our  Blossom Collection or wear alone. Select your choice of ear-wire.
Click the add to cart button to get your Handcrafted Silver Dangle Earrings today!
Materials.
Handmade item
935 Argentium silver oval floral textured discs
14K gold filled oval floral textured rings,
935 Argentium silver earwire or 14K gold filled earwires or Gold textured disc stud
2" in length
Safe for sensitive ears (hypoallergenic)
Free anti-tarnish bags for storage,
Ships in gift-ready packaging
Made in USA and ships from Rockville, Maryland.
To Keep Your Jewelry Always Looking New
Once you receive your jewelry, remove them from the box and store them in the anti-tarnish bag that comes with your Aniks jewelry, make sure you seal the bag closed.
Refund and Exchange Policy
I will gladly offer a refund or exchange within 30 days. Personalized and/or customized goods are exempt from being returned unless the product arrives defective. Additional non-returnable items are Gift cards and Used earrings for health reasons. Please contact me before sending your purchase back.
Being an insider, you get the first look at our new collections, exclusive deals not advertised to the public, behind the scene sneak peeks, fashion tips and how to(s) through our bi-weekly emails.
Yes please!
Oval Silver Dangle Earrings Handcrafted Jewelry Mixed Metal Jewelry,
Description

These Handcrafted Silver Dangle Earrings from our signature "Blossom Collection" are handmade and ideal for complementing the style of a woman who seeks refinement and grace. They are sure to satisfy your desire to own an exquisite piece of jewelry that will stand out from all the rest, and draw the admiration of others wherever you go!

These earrings are remarkably versatile, transitioning from your formal and everyday attire seamlessly. And hanging at 2" they are the ideal length to elongate and flatter your face. Handcrafted Silver Dangle Earrings are perfect as a gift for a loved one.

Gold on Silver combinations is the height of luxury. The radiant 14k gold-filled accent highlights the crisp tarnish resistant Argentium Silver disc's brightness. Pair with other pieces in our  Blossom Collection or wear alone. Select your choice of ear-wire.

Click the add to cart button to get your Handcrafted Silver Dangle Earrings today!

 

Materials.

Handmade item
935 Argentium silver oval floral textured discs
14K gold filled oval floral textured rings,
935 Argentium silver earwire or 14K gold filled earwires or Gold textured disc stud
2" in length
Safe for sensitive ears (hypoallergenic)
Free anti-tarnish bags for storage,
Ships in gift-ready packaging
Made in USA and ships from Rockville, Maryland.

To Keep Your Jewelry Always Looking New

Once you receive your jewelry, remove them from the box and store them in the anti-tarnish bag that comes with your Aniks jewelry, make sure you seal the bag closed.

Refund and Exchange Policy

I will gladly offer a refund or exchange within 30 days. Personalized and/or customized goods are exempt from being returned unless the product arrives defective. Additional non-returnable items are Gift cards and Used earrings for health reasons. Please contact me before sending your purchase back.

Being an insider, you get the first look at our new collections, exclusive deals not advertised to the public, behind the scene sneak peeks, fashion tips and how to(s) through our bi-weekly emails.

Yes please!

Reviews
Customer Reviews
01/22/2020
Meri
United States
First Pair of Aniks Jewelry