Earring-Pearl and Crystal Sterling Silver Triple Drops
$119.99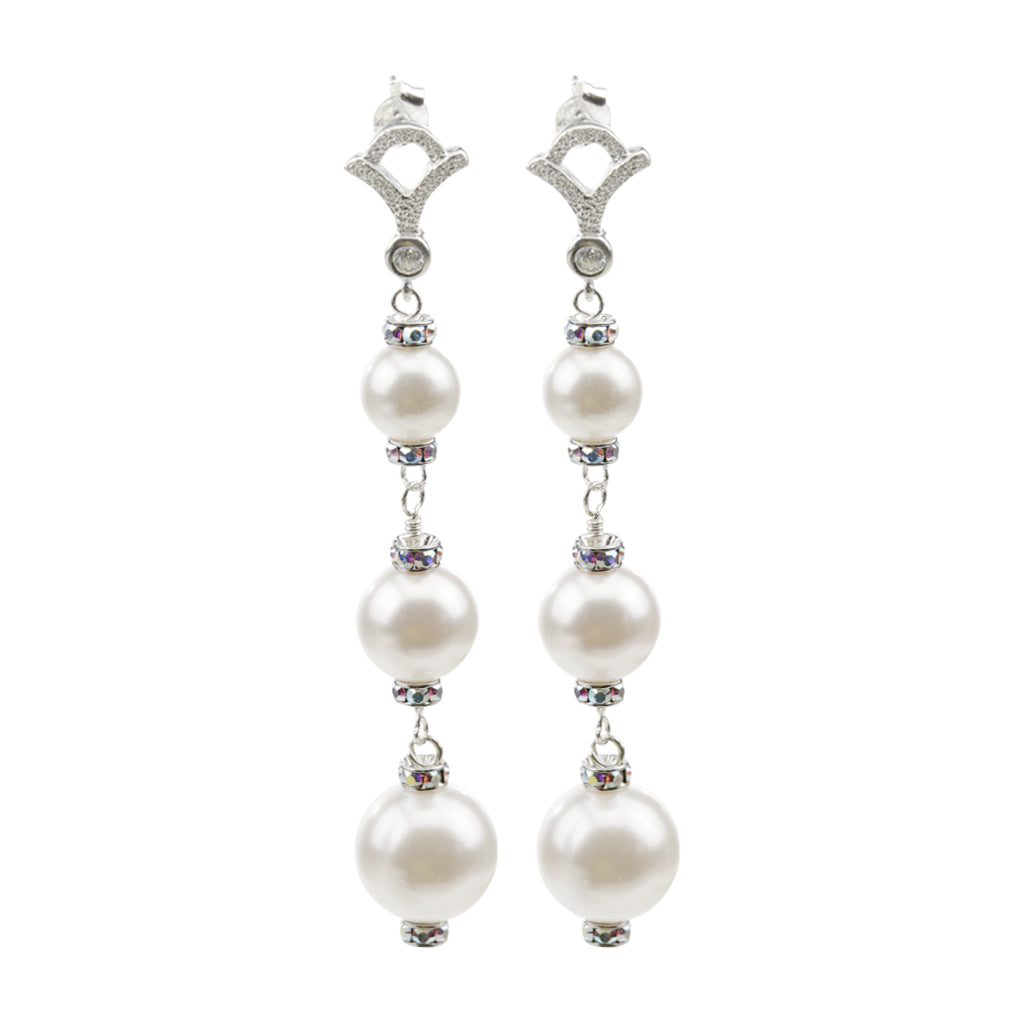 Pearl and Crystal Sterling Silver Triple Drops are Swarovski crystal pearls with shimmering crystals rondelles. They create a waterfall look to add sparkle to your face. Step out in an elegant fashion with these pearl and crystal triple drop earrings.
Pearl and Crystal Sterling Silver Triple Drops is a luxurious pair of statement pieces perfect for your special occasions. Three Swarovski crystal pearls drop from Sterling Silver and Cubic Zirconia Ear Studs for a refined style. Carefully crafted, each crystal rondelle will reflect delicate rays of light with your every movement. At 2.27" in length, they are perfect for that special date night to make your outfit stand out. It is available in 13 different colors, select a color to reflect your style. You will touch a special heart with these as a gift. Pair with the pearl bracelets for an exquisite set.
To Keep Your Jewelry Always Looking New
Once you receive your jewelry, remove them from the box and store them in the anti-tarnish bag that comes with your Aniks jewelry, make sure you seal the bag closed.
Refund and Exchange Policy
I will gladly offer a refund or exchange within 30 days. Personalized and/or customized goods are exempt from being returned unless the product arrives defective. Additional non-returnable items are Gift cards and Used earrings for health reasons. Please contact me before sending your purchase back.
Being an insider, you get the first look at our new collections, exclusive deals not advertised to the public, behind the scene sneak peeks, fashion tips and how to(s) through our by weekly emails.
Yes please!
Earring-Pearl and Crystal Sterling Silver Triple Drops
Description

Pearl and Crystal Sterling Silver Triple Drops are Swarovski crystal pearls with shimmering crystals rondelles. They create a waterfall look to add sparkle to your face. Step out in an elegant fashion with these pearl and crystal triple drop earrings.

Pearl and Crystal Sterling Silver Triple Drops is a luxurious pair of statement pieces perfect for your special occasions. Three Swarovski crystal pearls drop from Sterling Silver and Cubic Zirconia Ear Studs for a refined style. Carefully crafted, each crystal rondelle will reflect delicate rays of light with your every movement. At 2.27" in length, they are perfect for that special date night to make your outfit stand out. It is available in 13 different colors, select a color to reflect your style. You will touch a special heart with these as a gift. Pair with the pearl bracelets for an exquisite set.

 

To Keep Your Jewelry Always Looking New

Once you receive your jewelry, remove them from the box and store them in the anti-tarnish bag that comes with your Aniks jewelry, make sure you seal the bag closed.

Refund and Exchange Policy

I will gladly offer a refund or exchange within 30 days. Personalized and/or customized goods are exempt from being returned unless the product arrives defective. Additional non-returnable items are Gift cards and Used earrings for health reasons. Please contact me before sending your purchase back.

Being an insider, you get the first look at our new collections, exclusive deals not advertised to the public, behind the scene sneak peeks, fashion tips and how to(s) through our by weekly emails.

Yes please!

Reviews