Bracelet-Pearl and Crystal Sterling Silver Double Strand Bracelet
$74.99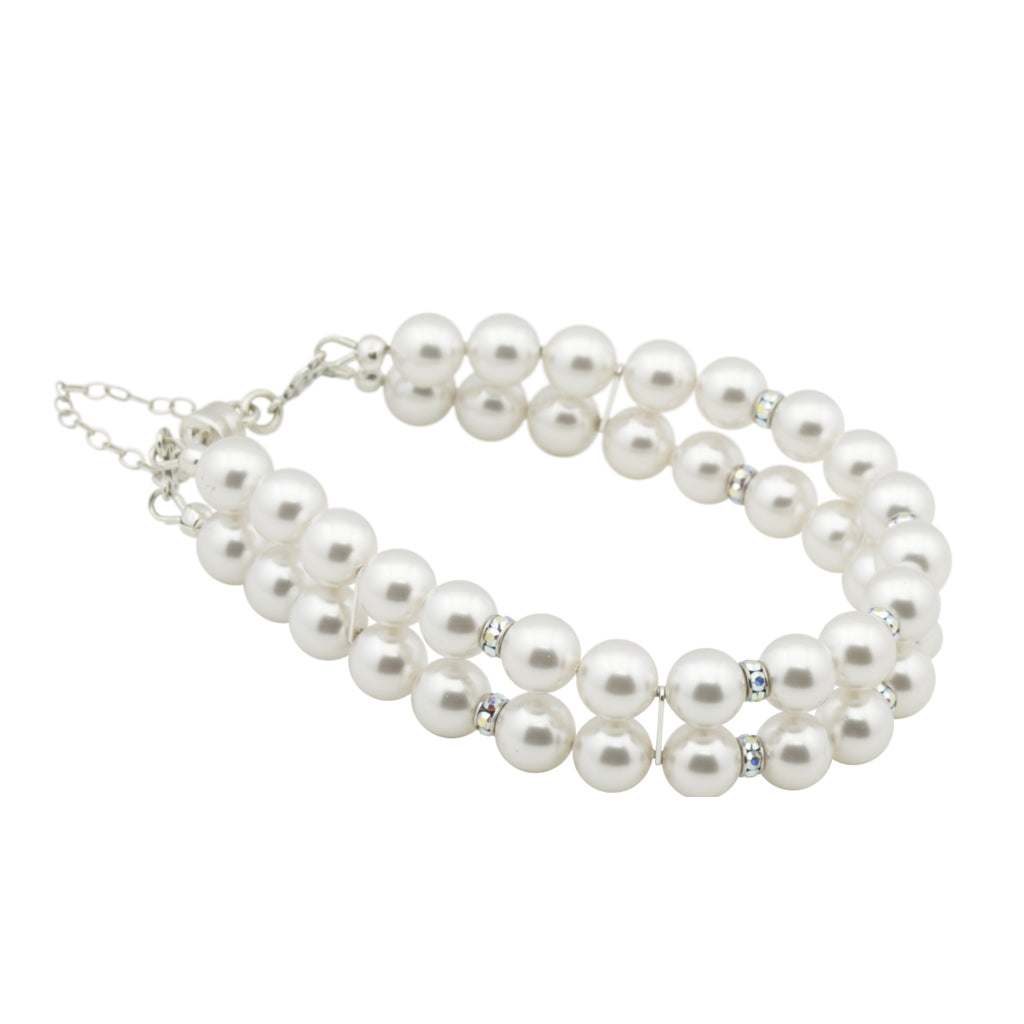 Pearl and Crystal Sterling Silver Double Strand Bracelet feature Swarovski crystal pearls and Swarovski crystal rondelles. This bracelet has just the right touch of sparkle. It comes with time-saving sterling silver magnetic clasp and safety chain. 
The magnetic clasp makes it easy to wear while the safety chain prevents loss of the precious bracelet. 
This bracelet is gorgeous, beautiful and classic, you will want to wear this every day.
It is available in 13 different colors, select the accent color to reflect your style. It is also available in four different sizes, 6", 6.5", 7" , 7.5"and 8".  
Pearl and Crystal Sterling Silver Double Strand Bracelet is a statement piece, you will get compliments all day long. This bracelet is suitable as a special occasion or evening accessory, casual to dressy, pearls are a necessity for every girl's jewelry box.  
Pearls are a perfect mix of class and sophistication which means they are a welcome gift for ladies at all ages hence perfect mother's day, wedding or birthday gift for the very special lady in your life.
Select your color, your bracelet size and click "Buy it now" to get yours today. 
Swarovski Crystal Pearls --- Swarovski Crystal Pearls are washable, not susceptible to damage from perfume or perspiration. They are also resistant to scratches which mean less maintenance and long lasting.
Swarovski Crystal Rondelles ---Accents the pearls with just the right touch of sparkle.
925 Sterling Silver Magnetic Clasp. -- Makes it effortless to put on and take off.
925 Sterling Silver Safety Chain — Secures your investment from loss so you keep rocking your bracelet.
925 Sterling Silver Celtic Two Strand End Bars---Ensures the bracelet lays on your wrist.
925 Sterling Silver Components. ---Jewelry from Aniks don't contain lead and nickel metals which makes them suitable for sensitive skin. This translates to hypoallergenic.
Gift Ready Packaging. --- Making gift giving easy by saving you trouble and time.
Free Anti-tarnish Bags for Storage. --- To help keep your jewelry looking new.
Made in USA and Ships from Rockville, Maryland
To Keep Your Jewelry Always Looking New
Once you receive your jewelry, remove them from the box and store them in the anti-tarnish bag that comes with your Aniks jewelry, make sure you seal the bag closed.
Refund and Exchange Policy
I will gladly offer a refund or exchange within 30 days. Personalized and/or customized goods are exempt from being returned unless the product arrives defective. Additional non-returnable items are Gift cards and Used earrings for health reasons. Please contact me before sending your purchase back.
Being an insider, you get the first look at our new collections, exclusive deals not advertised to the public, behind the scene sneak peeks, fashion tips and how to(s) through our by weekly emails.
Yes please!
Bracelet-Pearl and Crystal Sterling Silver Double Strand Bracelet
Description

Pearl and Crystal Sterling Silver Double Strand Bracelet feature Swarovski crystal pearls and Swarovski crystal rondelles. This bracelet has just the right touch of sparkle. It comes with time-saving sterling silver magnetic clasp and safety chain. 

The magnetic clasp makes it easy to wear while the safety chain prevents loss of the precious bracelet. 

This bracelet is gorgeous, beautiful and classic, you will want to wear this every day.

It is available in 13 different colors, select the accent color to reflect your style. It is also available in four different sizes, 6", 6.5", 7" , 7.5"and 8".  

Pearl and Crystal Sterling Silver Double Strand Bracelet is a statement piece, you will get compliments all day long. This bracelet is suitable as a special occasion or evening accessory, casual to dressy, pearls are a necessity for every girl's jewelry box.  

Pearls are a perfect mix of class and sophistication which means they are a welcome gift for ladies at all ages hence perfect mother's day, wedding or birthday gift for the very special lady in your life.

Select your color, your bracelet size and click "Buy it now" to get yours today. 

Swarovski Crystal Pearls --- Swarovski Crystal Pearls are washable, not susceptible to damage from perfume or perspiration. They are also resistant to scratches which mean less maintenance and long lasting.

Swarovski Crystal Rondelles ---Accents the pearls with just the right touch of sparkle.

925 Sterling Silver Magnetic Clasp. -- Makes it effortless to put on and take off.

925 Sterling Silver Safety Chain — Secures your investment from loss so you keep rocking your bracelet.

925 Sterling Silver Celtic Two Strand End Bars---Ensures the bracelet lays on your wrist.

925 Sterling Silver Components. ---Jewelry from Aniks don't contain lead and nickel metals which makes them suitable for sensitive skin. This translates to hypoallergenic.

Gift Ready Packaging. --- Making gift giving easy by saving you trouble and time.

Free Anti-tarnish Bags for Storage. --- To help keep your jewelry looking new.

Made in USA and Ships from Rockville, Maryland

To Keep Your Jewelry Always Looking New

Once you receive your jewelry, remove them from the box and store them in the anti-tarnish bag that comes with your Aniks jewelry, make sure you seal the bag closed.

Refund and Exchange Policy

I will gladly offer a refund or exchange within 30 days. Personalized and/or customized goods are exempt from being returned unless the product arrives defective. Additional non-returnable items are Gift cards and Used earrings for health reasons. Please contact me before sending your purchase back.

Being an insider, you get the first look at our new collections, exclusive deals not advertised to the public, behind the scene sneak peeks, fashion tips and how to(s) through our by weekly emails.

Yes please!

Reviews