Argentium Silver Tassel Necklace Handcrafted Jewelry Crystal Necklace
$109.99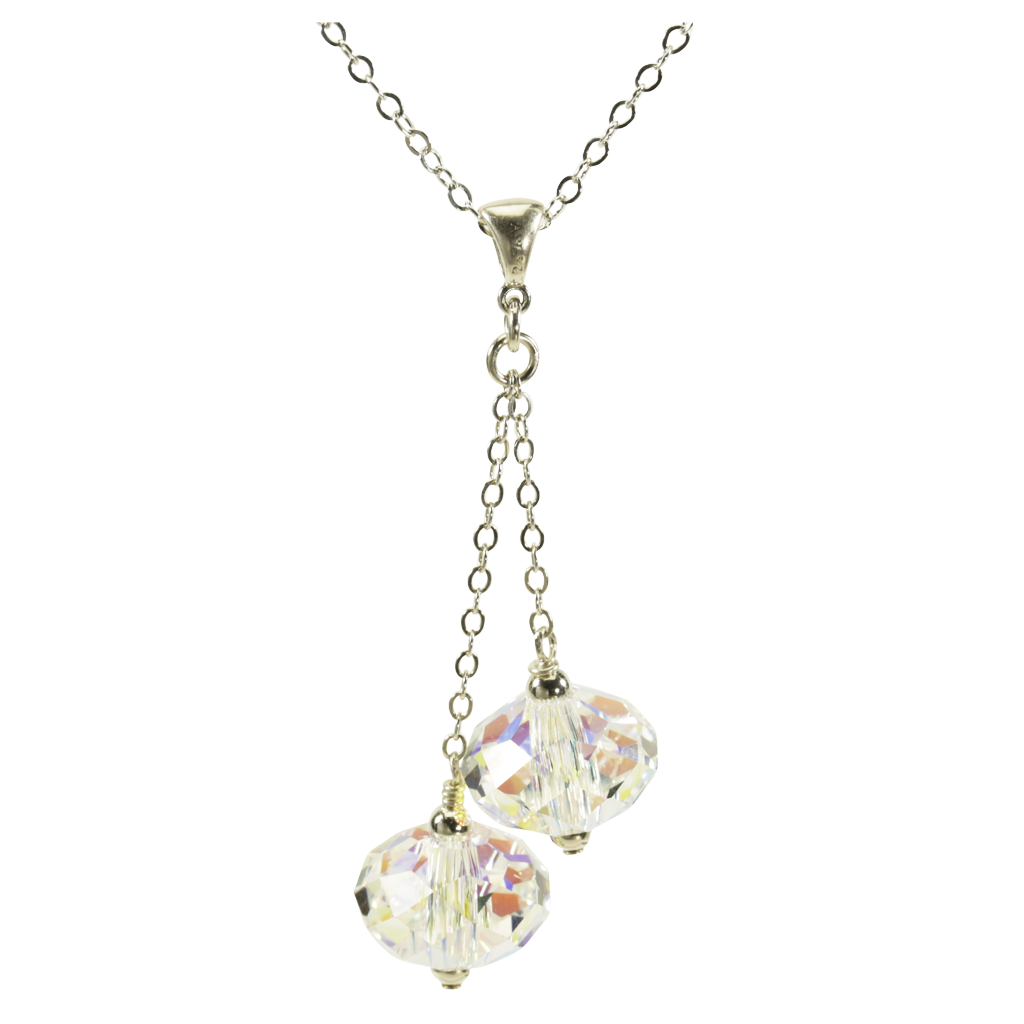 Add interest to your look with this sensational Argentium silver tassel necklace. Crafted in 935 Argentium silver, this necklace features drops of faceted Swarovski AB crystals dropped by high polish Argentium silver chain tassel. Argentium seamless beads add interest to the crystals.
This gorgeous handcrafted jewelry is polished to a brilliant luster and it secures with an Argentium Silver teardrop lobster clasp. It is available in 18"
Your crystal necklace will easily bridge from day to evening wear, it is a great addition to any attire. 
Treat yourself to this necklace or give it as a gift, the bold look of this necklace is a thing of beauty to be adored.
Match with Crystal Drop Earrings or Argentium Silver Tassel Crystal earrings for an awesome set.
Materials:
Handmade item
Swarovski crystals crystal AB, faceted rondelles.
Highly polished Argentium silver cable chain with a durable, classic design.
Argentium silver bail.
Argentium silver lobster clasp.
Argentium silver components.
Each necklace is handcrafted with an 18 inch Argentium silver chain,
Shipped in gift-ready packaging.
Free Anti-tarnish bag for storage.
Made in USA and Ships from Rockville, Maryland
Argentium Silver Tassel Necklace Handcrafted Jewelry Crystal Necklace
Description

Add interest to your look with this sensational Argentium silver tassel necklace. Crafted in 935 Argentium silver, this necklace features drops of faceted Swarovski AB crystals dropped by high polish Argentium silver chain tassel. Argentium seamless beads add interest to the crystals.

This gorgeous handcrafted jewelry is polished to a brilliant luster and it secures with an Argentium Silver teardrop lobster clasp. It is available in 18"

Your crystal necklace will easily bridge from day to evening wear, it is a great addition to any attire. 

Treat yourself to this necklace or give it as a gift, the bold look of this necklace is a thing of beauty to be adored.

Match with Crystal Drop Earrings or Argentium Silver Tassel Crystal earrings for an awesome set.

 

Materials:

Handmade item
Swarovski crystals crystal AB, faceted rondelles.
Highly polished Argentium silver cable chain with a durable, classic design.
Argentium silver bail.
Argentium silver lobster clasp.
Argentium silver components.
Each necklace is handcrafted with an 18 inch Argentium silver chain,
Shipped in gift-ready packaging.
Free Anti-tarnish bag for storage.
Made in USA and Ships from Rockville, Maryland

Reviews