Earrings-Oval Disc Silver Pearl Crystal Drop Earrings
$49.99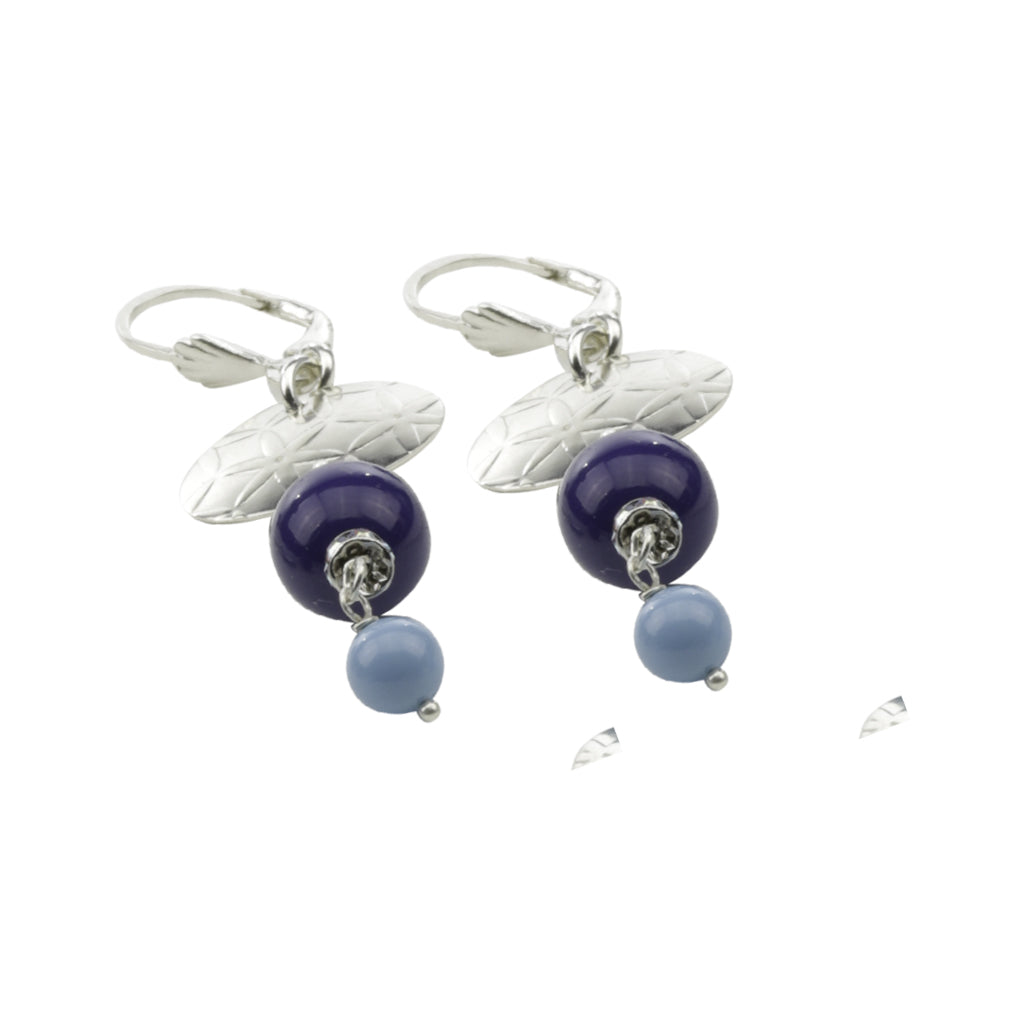 These oval disc silver pearl crystal earrings from our signature "Blossom Collection" include dazzling elements of  Swarovski crystal pearl and Swarovski crystal rondelles, as well as our gorgeous Pentas, patterned disks. They hang at two and a half inches from your ear and are the perfect accessory to add charm and sophistication to your outfit.
There is a choice of 16 different colorful Oval Disc Silver Pearl Crystal Drop Earrings so that you are able to choose the style that makes you feel most elegant. The pop of color adds an exciting and modern twist to everyday outfits, while still remaining classically charming. If you are searching for the perfect piece to add more color to your life, look no further! When you wear these earrings you won't be able to help but smile.
These are safe for sensitive ears. These earrings pair perfectly with our long oval crystal pearl necklace, wear them both together for a fashionable look.
935 Argentium silver oval floral textured disc,
935 Argentium silver earwire
Swarovski crystal pearl
Swarovski crystal rondells
2 1/2" in length

Safe for sensitive ears

Free anti-tarnish bags for storage,
Ships in gift-ready packaging
Made in USA and ships from Rockville, Maryland.
Earrings-Oval Disc Silver Pearl Crystal Drop Earrings
Description

These oval disc silver pearl crystal earrings from our signature "Blossom Collection" include dazzling elements of  Swarovski crystal pearl and Swarovski crystal rondelles, as well as our gorgeous Pentas, patterned disks. They hang at two and a half inches from your ear and are the perfect accessory to add charm and sophistication to your outfit.

There is a choice of 16 different colorful Oval Disc Silver Pearl Crystal Drop Earrings so that you are able to choose the style that makes you feel most elegant. The pop of color adds an exciting and modern twist to everyday outfits, while still remaining classically charming. If you are searching for the perfect piece to add more color to your life, look no further! When you wear these earrings you won't be able to help but smile.

These are safe for sensitive ears. These earrings pair perfectly with our long oval crystal pearl necklace, wear them both together for a fashionable look.

935 Argentium silver oval floral textured disc,
935 Argentium silver earwire
Swarovski crystal pearl
Swarovski crystal rondells
2 1/2" in length

Safe for sensitive ears

Free anti-tarnish bags for storage,
Ships in gift-ready packaging
Made in USA and ships from Rockville, Maryland.

Reviews