Bracelet-Oval Disc Gold On Copper Bracelet
$139.99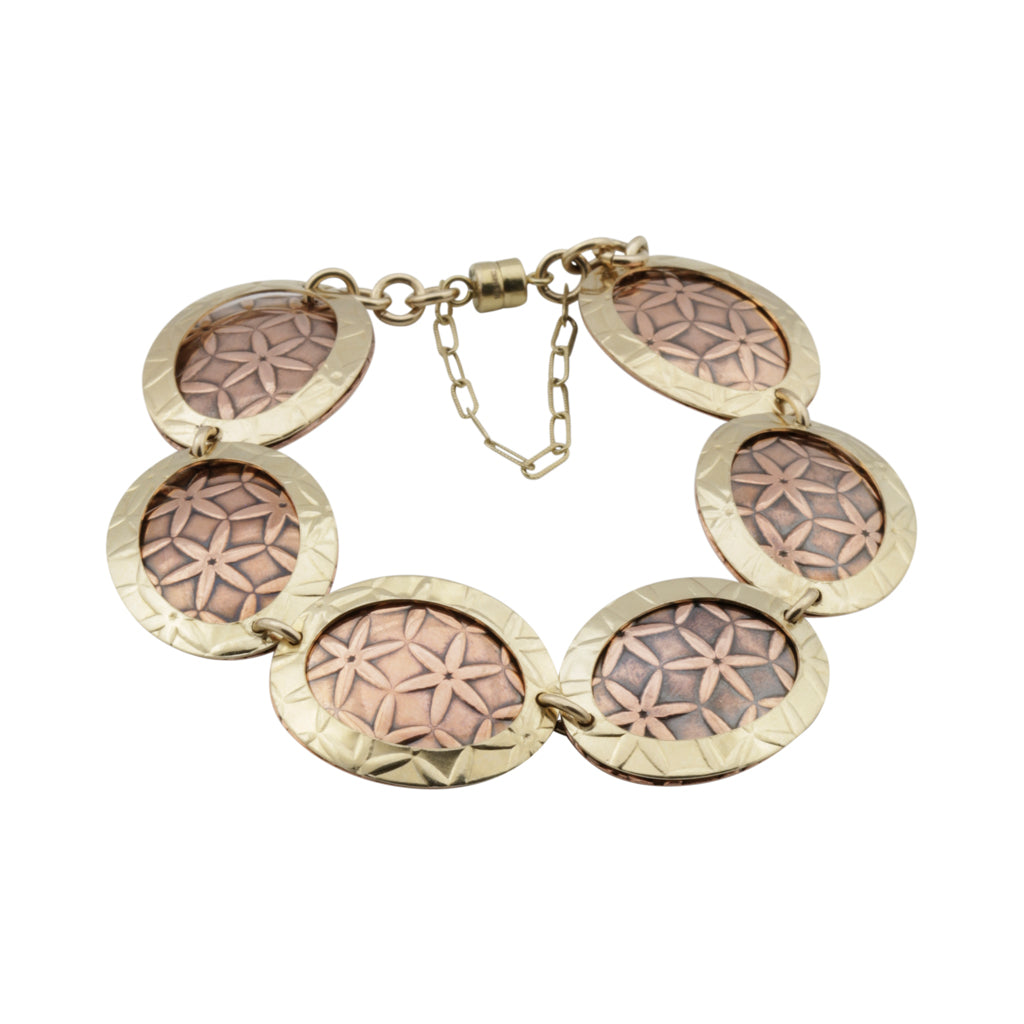 This stylish oval disc gold on copper bracelet from our signature "Blossom Collection"  incorporates gorgeous two-toned layered discs in gold filled and copper. It naturally draws attention... be ready for compliments all evening!
The bracelet is certainly one of the most splendid items in this collection. If you enjoy designer quality and one-of-a-kind jewelry, this is the piece for you or someone very special and dear to you.
This timeless oval disc bracelet features multiple of our signature oval-shaped "pentas textured" discs secured with 14K gold filled magnetic clasp. It also comes with 14k safety chain. This oval disc bracelet pairs perfectly with our oval disc necklace! Completed with your choice of earrings from the Blossom Collection,  and you are set for your next outing. 
This bracelet is available in 6",  6.5",  7",  7.5" and 8" lengths for that perfect fit.
Gold on Copper:  Brings warmth and mystery to your outfits. The copper disc appears deep against the gold as it highlights the richness of the 14k gold-filled accent. Just choose your size and choice of clasp.
Select the add to cart button to get yours. Materials:
14K gold filled oval floral textured rings,
Antique copper oval floral textured discs
14k gold filled magnetic clasp or 14K gold filled spring ring
14k gold filled safety chain or 14k gold filled chain extender
Available in 6" - 8" lengths
Free anti-tarnish bags for storage,
Ships in gift-ready packaging
Made in USA and ships from Rockville, Maryland.
To Keep Your Jewelry Always Looking New
Once you receive your jewelry, remove them from the box and store them in the anti-tarnish bag that comes with your Aniks jewelry, make sure you seal the bag closed.
Refund and Exchange Policy
I will gladly offer a refund or exchange within 30 days. Personalized and/or customized goods are exempt from being returned unless the product arrives defective. Additional non-returnable items are Gift cards and Used earrings for health reasons. Please contact me before sending your purchase back.
Being an insider, you get the first look at our new collections, exclusive deals not advertised to the public, behind the scene sneak peeks, fashion tips and how to(s) through our bi-weekly emails.
Yes please!
Bracelet-Oval Disc Gold On Copper Bracelet
Description

This stylish oval disc gold on copper bracelet from our signature "Blossom Collection"  incorporates gorgeous two-toned layered discs in gold filled and copper. It naturally draws attention... be ready for compliments all evening!

The bracelet is certainly one of the most splendid items in this collection. If you enjoy designer quality and one-of-a-kind jewelry, this is the piece for you or someone very special and dear to you.

This timeless oval disc bracelet features multiple of our signature oval-shaped "pentas textured" discs secured with 14K gold filled magnetic clasp. It also comes with 14k safety chain. This oval disc bracelet pairs perfectly with our oval disc necklace! Completed with your choice of earrings from the Blossom Collection,  and you are set for your next outing. 

This bracelet is available in 6",  6.5",  7",  7.5" and 8" lengths for that perfect fit.

Gold on Copper:  Brings warmth and mystery to your outfits. The copper disc appears deep against the gold as it highlights the richness of the 14k gold-filled accent. Just choose your size and choice of clasp.

Select the add to cart button to get yours. Materials:

14K gold filled oval floral textured rings,
Antique copper oval floral textured discs
14k gold filled magnetic clasp or 14K gold filled spring ring
14k gold filled safety chain or 14k gold filled chain extender
Available in 6" - 8" lengths
Free anti-tarnish bags for storage,
Ships in gift-ready packaging
Made in USA and ships from Rockville, Maryland.

To Keep Your Jewelry Always Looking New

Once you receive your jewelry, remove them from the box and store them in the anti-tarnish bag that comes with your Aniks jewelry, make sure you seal the bag closed.

Refund and Exchange Policy

I will gladly offer a refund or exchange within 30 days. Personalized and/or customized goods are exempt from being returned unless the product arrives defective. Additional non-returnable items are Gift cards and Used earrings for health reasons. Please contact me before sending your purchase back.

Being an insider, you get the first look at our new collections, exclusive deals not advertised to the public, behind the scene sneak peeks, fashion tips and how to(s) through our bi-weekly emails.

Yes please!

Reviews